SAS Thread Bars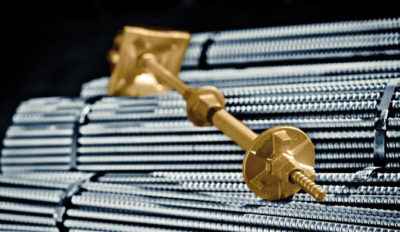 Where major construction sites are built in the world, SAS thread bars are used. The adequate SAS threadbar system is supplied for all demands e.g. mining, building construction, bridge, road or tunnel construction. The connecting and fixing systems have substantiated their excellent quality around the world. Despite the difficulty of a project we'll guarantee the best solution.
Advantages of SAS thread bar-systems
Easy handling of the SAS Systems at job sites for formwork ties, reinforcing coupling, soil nails, micropiles, soil and rock.
Bolts, anchorage-systems for tunneling and mining and post-tensioning.
Robust, site-proven self-cleaning thread.
Coarse thread ribs guarantee optimal bond between steel and cement grout.
Screwable coarse thread ribs along full length of the bar. Cutting or extension with coupler possible at any position of the bar.
Individual customized bar lengths available.
Different possibilities of corrosion protection.
Continuous in-production quality control as well as quality testing by independent authorities.
Quality management is certified in accordance to DIN ISO 9001.